Inspiration: Stationery Themes for a Winter Wedding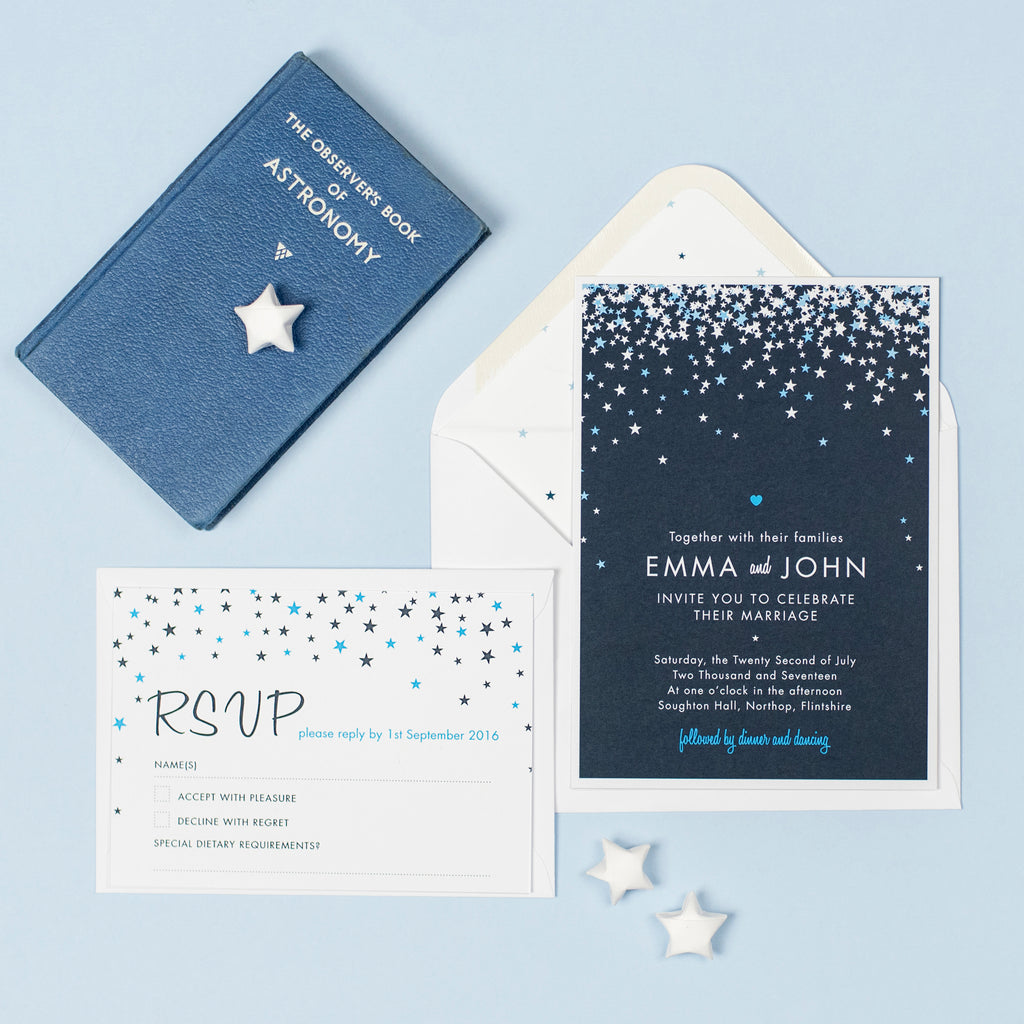 If you're getting married this Winter, you're probably now getting round to putting together the final details. Hopefully, this will include ordering your stationery! Well, we have all you could ever want and more. Even better, we'll narrow down some of our favourite wintery themes to help you choose what you'd like to go with. Whether you want to go traditional or contemporary, we've got you covered.
Bella stationery 
Winter is the darkest of seasons so you could reflect that in your stationery design. Think navy skies on crisp starry nights. If you don't want to go down the cheesy route of Christmas red and green, then you'll love our modern and fun Bella themed stationery. This would also suit weddings after Christmas, in January or February, for who still wish to keep with that Winter theme.
These are just a few of the products we have available in the Bella theme. This choice is perfect for all your stationery needs, as it can really cater to everything you'll require for your wedding. From saving the date to placeholders, to thank you cards, Bella stationery can make your Winter/Christmas wedding really special. We particularly love the combination of navy, blue and white. However, if you'd like something different, you can opt for this theme in black and gold too.
Kate stationery
Alternatively, maybe you'd like to embrace the white, bright colour palette of winter with its (temperamental!) snow and ice. If this is the case, our Kate range is perfect for you. This theme of stationery embodies minimalism and will really appeal to the fashionistas out there.
Of course, you can mix and match the black and white stationery. The Kate theme will give your wedding a really stylish and unique touch, from the RSVP cards to the menu. We particularly love how the handwritten-style font is an illustrative element - it's classy, but not too fussy. Perfect!
Enchanted stationery
This one is for those who love to go for long, crisp walks on cold mornings during Winter. The nature lovers among you will adore our Enchanted Forest stationery. It's both magical and traditional at the same time.
This natural colour scheme adds a gentle touch to any theme but would look particularly beautiful with a vintage-style wedding. We are a big fan of the Enchanted theme and it can cater for all of your stationery requirements from table numbers to guest information cards.
Feeling inspired?
Our wedding stationery ranges come in plenty of amazing themes to suit any style! If you're interested, we can send over some samples for you to try. Our sample packs start at £3.50. We also offer great deals for buying your stationery in big bundles. Get in touch to see how we can help you make a difference with your big day's little details.