How to Make a Monochrome Themed Wedding Work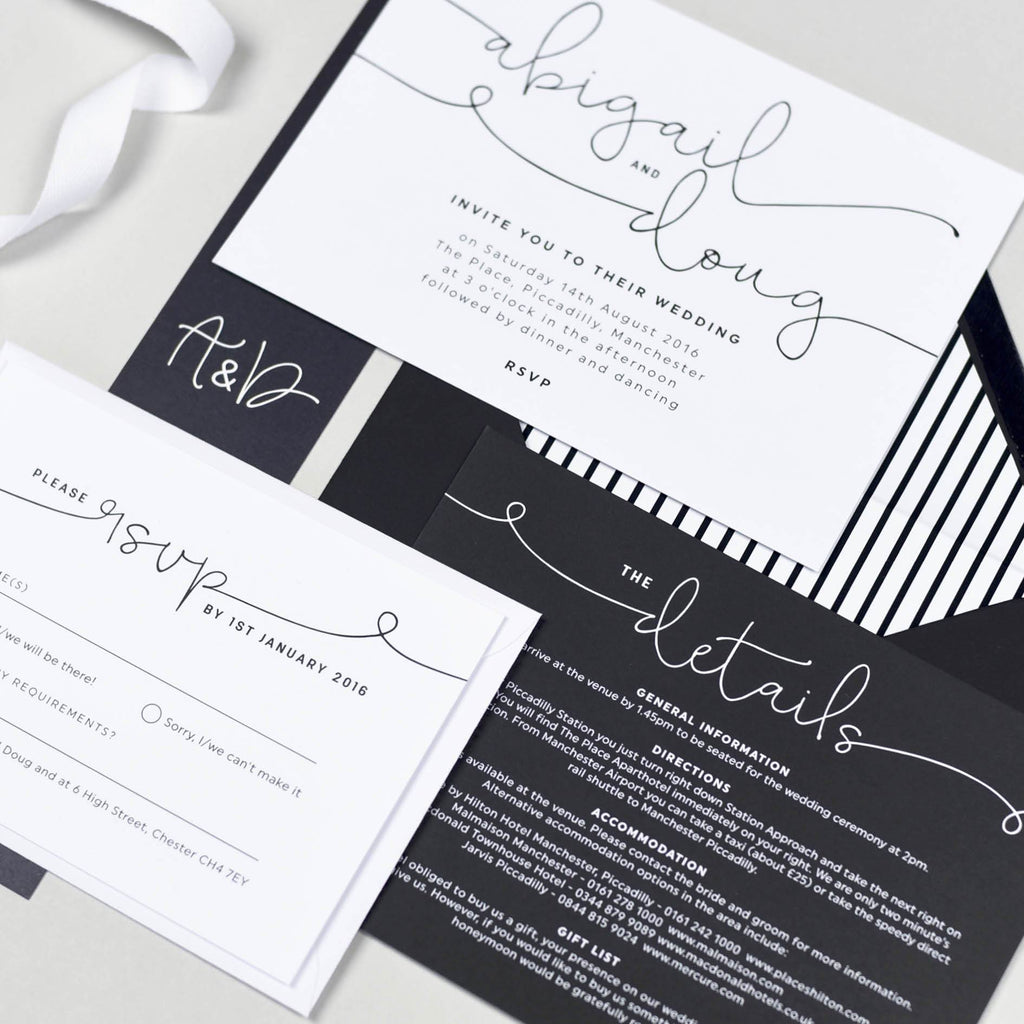 If you're looking for simplicity, elegance and something a bit more neutral, a monochrome themed wedding could be for you. Black and white, as a colour theme, is perfect for couples who can't agree on their favourite colour, as well as couples who prefer the finer things in life. Monochrome is a timeless combination and looks great on anyone, in any place and with any other colour. In today's blog post, we're exploring the best ways to make a black and white wedding work.
Start with the outfits
The outfits of a wedding are the easiest place to star with any colour theme - and they're especially important as they'll be the main focus of any wedding photos you have done. Bridesmaids, page boys, flower girls, groomsmen, all members of your wedding party can wear black or monochrome dresses and suits. We particularly love these striped numbers on the flower girls in the image below. However, we see plenty of bridesmaids wearing all black dresses! These contrast beautifully with the bride's white gown. And as for the guys, black tie is usually the most appropriate and stylish option.
Image via Deer Pearl Flowers
Go for coordinating decor in the venue
Depending on the venue you've chosen, you may get decor included in the price. Alternatively, you might have to find a designer to do this for you. Either way, make sure the person in charge of decorating your venue know that you want a monochrome theme. It's also important to not get too carried away with the theme; this colour palette works best when it's subtle and stylish instead of in your face. For instance, avoid black and white stripes making a huge appearance. This pattern looks great in one or two places, like dresses and table runners, but seeing it everywhere will make your guests' eyes hurt! It might be worth picking your favourite - either black or white - and making that the star of the show, with the opposite colour used as an accent. We recommend going for majority white in the summer and majority black in the winter for an appropriate seasonal theme.
Image via caughtthelight.com
Don't forget about your flowers and stationery
Too often, brides get so carried away with the bigger picture that they forget about the smaller details. For a monochrome bouquet, you could get your flowers sprayed. However, if you prefer the natural look, try queen of the night tulips, purple calla lilies, white roses or white carnations. The list really does go on so it's definitely worth finding your favourite natural monochrome blooms. As for your stationery, it'll be really easy to get beautiful black and white options. Our Kate collection, for example, is contemporary but also elegant, so is perfect for any modern wedding using a monochrome theme. Whether you go for black on white or white on black is completely up to you! Alternatively, you could try a mix of both across the different types of stationery you'll require.

What will your cake look like?
This is where you can get really creative. If you've got a talented cake maker making your wedding sponge, chances are the possibilities are endless. Don't worry though, a sponge with white icing is easy and affordable enough if you're on a tight budget but want to be in keeping with your theme. In terms of a handmade, bespoke cake, you really can let your imagination run wild. We are massive fans of drip icing, it's a hot trend in the wedding world at the moment and would look even more elegant in black. Or why not try alternating black and white tiers for a real statement?
Image via Whipped Cake Co.
Your thoughts
What is your favourite wedding colour theme? Are you a fan of this monochrome idea? Let us know in the comments what you think!