How to Style The Tables at Your Wedding: Layouts & Seating Plans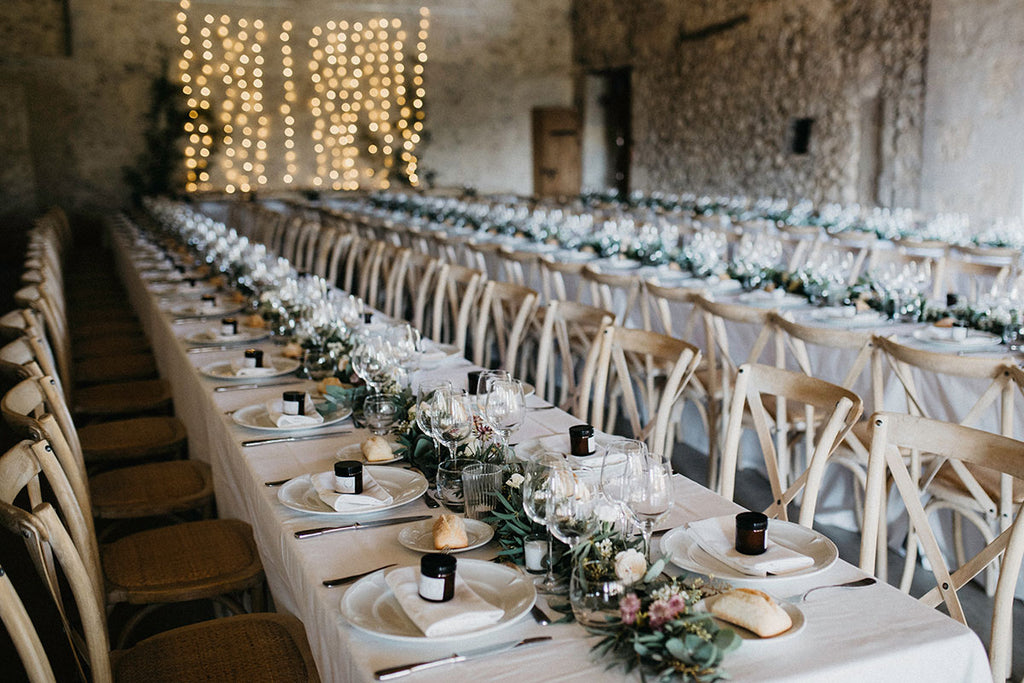 We love to give you tips, tricks and advice when it comes to planning your wedding. And this post is no different. Today, we're tackling the important issue of table styling. Whether you've got a long traditional top table and circular guest tables or your room layout is entirely unique and contemporary, we all have to think about the way we want our tables to look. There are many ways to go about this crucial part of the planning process but we'll run through the basics with you to get you started.
First things first, what you need:
As with any aspect of your wedding style and design, it's completely down to your personal taste and preference. However, there are a few things you will want to consider when it comes to the basics of your table styling. Use this handy checklist as a starting point (but don't feel inclined to use everything):
Table runner/garland
Centrepiece
Place cards
Table numbers
Placemats
Silverware
MenusNapkins
Wine/champagne glass
Soft drink glass
Jug of water
Candles
Chair decor
Table presents/wedding favours
Shop our Enchanted Forest table numbers here. 
Apply your wedding theme
Once you've run through this list, you should think about how you're going to incorporate your chosen wedding theme into each detail of the tables. Going with a rustic theme? Select woodland flowers for your centrepiece with wooden placemats and country-style gingham napkins. If your wedding is more of a contemporary, monochrome theme, why not go with a clean white tablecloth and runner contrasted against striking black accessories such as your flower display and place cards.
Tips from the experts
Wedding organisers and interior designers all tend to agree on one thing: textures are everything. Just because you want to go minimalistic doesn't mean your table should look bare and underdressed. Make use of different textures and layers to give your wedding tables that professional look. Using a table runner or fabric placemats can help to add depth to your tablecloth, whilst kitsch decor like scattered pinecones, tealights and wild ivy can really bring the layout to life. We recommend matching your tableware and accessories to your overall theme
and each other, but don't be afraid to add in a few contrasting accents for a more effective look.
For example, you might use lilac and navy placeholders and flowers for your lilac and navy themed wedding. However, we suggest adding in metallic accents (silver would work particularly well) such as cutlery, candlesticks and ribbon for the presents - you'll achieve a more stylish finish.
Our Grace menu card would look great for a berry and gold winter themed wedding.
Who's sitting here?
This is probably going to cause a few headaches, especially if you've got big families on both sides. There are some really handy sites you can use, such as TopTablePlanner and PerfectTablePlan to help you figure out your seating plans. The most important thing to remember is this: it's your special day and you should plan the tables according to what will make you and your spouse happiest. Don't worry about petty family squabbles - they'll respect your choices at the end of the day. Traditionally, top tables in the UK have the bride and groom in the middle, then the bride's parents, then the groom's parents and finally, the chief bridesmaid and best man on each end. However, you may wish to opt for the American top table plan and have your bridesmaids and groomsmen sat with you instead of your parents.
 Here are a few tips to think about:
Keep the tables nearest the top table for your closest friends and family
You don't have to have a top table, try a sweetheart table just for the married couple
Name your tables with something special to you and your guests, numbers aren't the be all and end all
Mix up people who you think will get along, a wedding is a great place to meet new friends!
Don't leave one single guest sat with a load of couples. On the other hand, a table dedicated to singles is probably a recipe for awkwardness. Mix it up!
 For all your 'on the day' requirements such as menu cards, seating plans and welcome signs, be sure to check out our collection here.