5 Things We Love About Autumn Weddings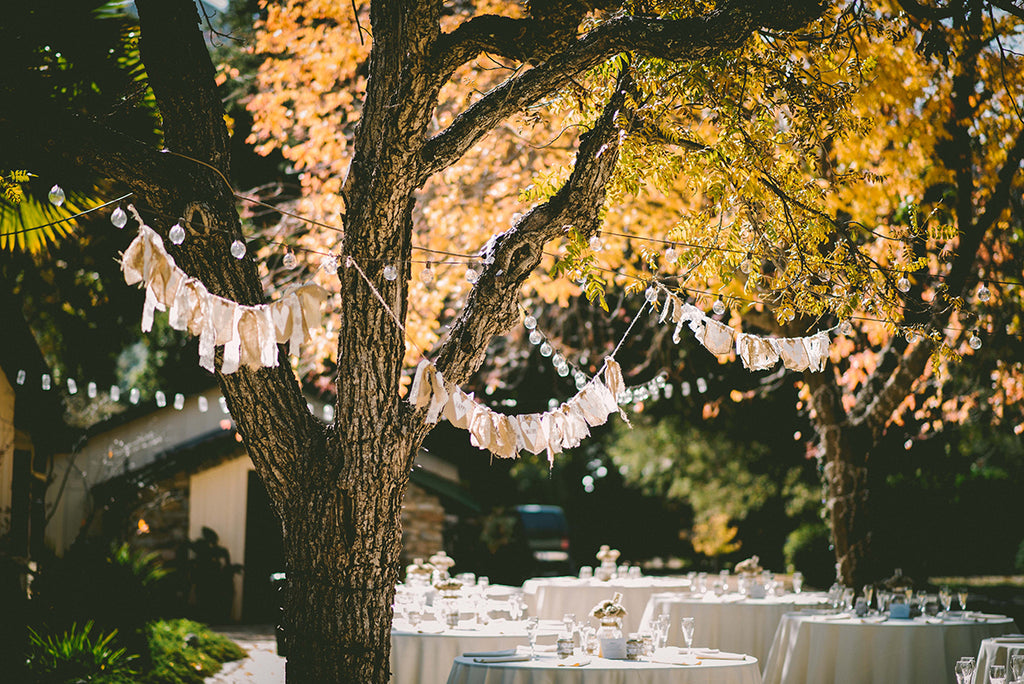 It's official. Autumn is well and truly in the air! We're excited for all things cosy - candles, ankle boots, chunky scarves and hot coffees in the morning. However, it's not just our everyday lives that feel the magic of autumn. For those holding their wedding during the orange-toned season, there's a lot to get excited about. We've put together this list of our top 5 favourite things about autumnal weddings for your reading enjoyment. Sit back, relax and have a scroll.
Why we love autumn weddings...
1. Outdoor photographs look beautiful
First things first, you simply can't beat the way that nature and the outdoor scenery looks in the autumn time. If you're lucky enough to have a proper wedding photographer, your moments will be captured alongside crisp orange leaves and that warm, glowing sun. Who could ask for a better backdrop to their big day? Whether you want to take fun shots throwing leaves into the air or you prefer for the scenery to do its thing in the background, one thing's for sure: your wedding photographs will certainly look magical.
2. The weather is warm enough but not too warm!
An outdoor ceremony is the best way to go in autumn, for the reasons stated above. However, if it's not for you, you can still take advantage of the autumnal weather from indoors. You'll be able to comfortably wear a long sleeved dress (if that's your thing) and the men won't be sweating in their suits. It's pretty much the best of both worlds for everyone involved. Oh, and let's not forget that we can start to enjoy warm seasonal foods at the reception like soups, pies and recipes with chestnuts, butternut squash and cinnamon.
3. It's something to look forward to between summer and Christmas
Once the gloriously hot summer is out of the way, most people are on the countdown to Christmas. Throwing a wedding in the autumnal season means people have something to look forward during the in-between period. This also means there will (hopefully) be no calendar clashes with major events of the year that your guests may be attending. Rumour has it, booking your wedding in late autumn is likely to mean securing your dream venue. Summer and winter weddings are the most sought after so choose your dates right and you could end up feeling very smug.
4. The colour palettes are just simply the best
Your bouquet is going to look on point - we're talking oranges, reds, yellows and pinks. We're getting excited just thinking about it! And if you can't think of a suitable theme for your wedding, holding it in the autumn means you don't have to. Make the most of this season's warmer colour tones and rustic vibes throughout your flowers, decor and bridesmaids' dresses. If metallic is your thing, don't hold back on the brass, gold, or copper accents. Not only are these beautiful metals perfect for autumn but they're also bang-on-trend in the interior design and fashion worlds right now. Autumn tones suit everyone but if your bridesmaids don't like the warm rust-toned colours, shades like navy and khaki also look beautiful during this season.
5. Candles, candles, everywhere!
Last but certainly not least, candles are everywhere. In the home, in boutiques, in cafes and restaurants… and now at your wedding. Incorporate candles as part of your table decorations so that inviting glow can spread around the room. If you're worried about little ones or drunk relatives on the dancefloor, line the room with artificial electric flames so you can achieve that lovely look and feel without the potential safety hazard! And to throw a bit of fun into the mix, why not offer our sparklers when the sun's gone down? Under supervision, of course. There's nothing more autumnal than a cluster of glowing candles and sparklers - right?
Are you hosting or guesting at an autumn wedding?
Let us know in the comments how you've planned your autumn wedding or what you're most looking forward to about this season.