Why We Love Berry & Gold Themed Weddings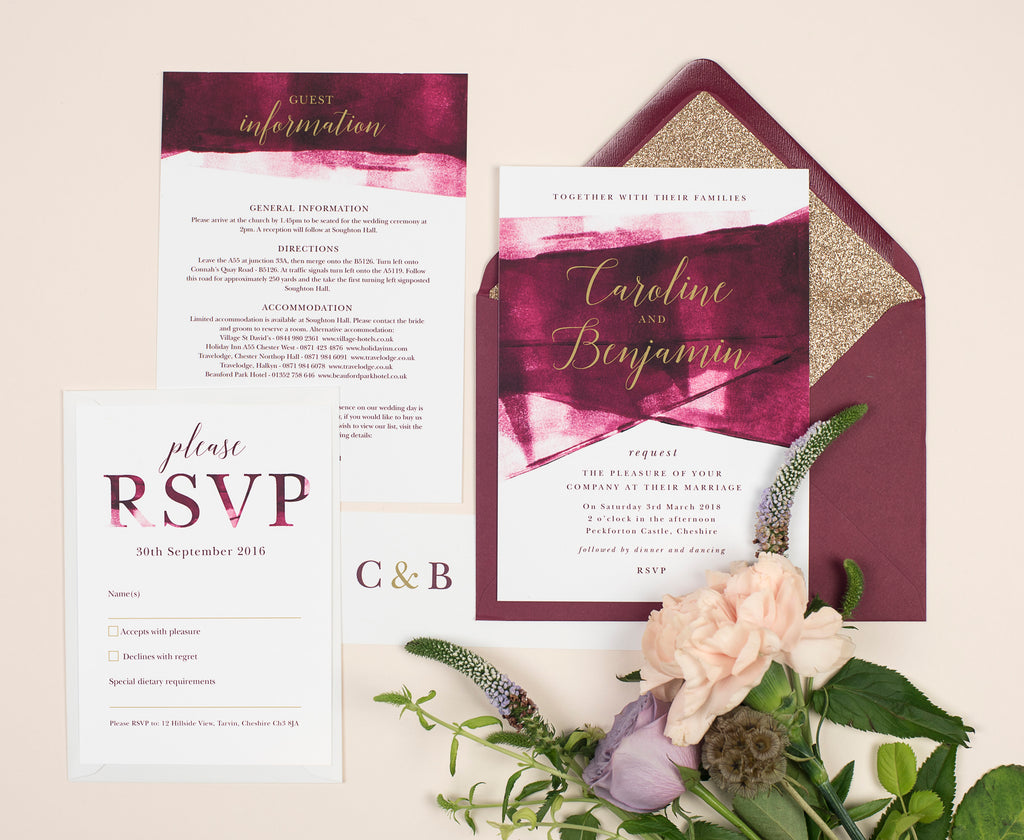 We're suckers for a good wedding colour theme here at Project Pretty and we love dissecting what makes the perfect combination. Today, we thought we'd share with you our favourite theme at the moment: berry and gold. Metallics and dark red/purple tones aren't just for Christmas. They're also perfect for the following winter months when set against a crisp, blue sky, frost and bare trees. In fact, we think that a berry and gold colour scheme is the perfect combo give your big day that extra special touch as it is unique and exceptionally tasteful.
There are plenty of ways to incorporate a berry shade into your wedding. These include the bouquet, floral arrangements for the tables and bridesmaids' dresses. As for the gold, this can be weaved in just about anywhere! Perhaps, though, the most traditional ways to use gold would be in jewellery, subtle decor details and your stationery, of course. Bridesmaids with matching gold necklaces and gold cufflinks for the groom might be a really nice touch for this theme. Oh, and don't forget a berry lip for the bride, of course!
So why do we love berry & gold so much?
Well, it's an unusual colour scheme that's different from the typical pastel pink or lilac. Metallics are often used in traditional wedding themes but it's nice to incorporate them with a contrasting colour for a striking effect. Berry is actually a gorgeous colour that complements gold incredibly well - it almost breathes new life into the traditional metal tone.
Tend to your stationery needs
Like we mentioned earlier, a really easy way to incorporate berry and gold into your wedding is through stationery like invitations and placeholders. In fact, stationery is a great way to set the precedent for any colour theme as it can all be easily coordinated. Take a look at our new 'Grace' design. It takes advantage of the glorious berry and gold colour scheme to produce a really beautiful effect. The 'Grace' design is available in many types of stationery from RSVP cards to order-of-the-day schedules.
Pinterest inspiration
You know how much we love Pinterest. The thing is, there's absolutely nothing that can't be found or searched for on that site! No matter what kind of DIY project or outfit you're trying to throw together, there's always someone who has pinned something that'll come in handy. It's no different for weddings. We decided to take a look at some Pinterest moodboards that we thought would help someone looking to use a berry and gold theme on their wedding day. Rest assured, it only made us fall in love with the colour combination even more.
How about throwing an extra colour into the mix? The Wedding Playbook has created a board entitled 'Berry, Navy & Gold Wedding Inspiration' and it's just delightful. 
Or, perhaps you'd like to focus more on the berry colour? It is beautiful, after all. The Inside Vault posted this rich and luxurious moodboard putting a strong spotlight on just how much you can do with a gorgeous berry shade. Take a sneak peek at 'Berry Wedding Inspiration'.
There's always someone you can rely on, like we said, to have pinned what you're after. So, if you are a big fan of the berry and gold colour theme in our Grace designs, then here's the perfect mood board to inspire you in the other areas of your wedding plans. Here's our very own berry, burgundy and gold themed mood board.