Marble & Copper: Wedding Colour Theme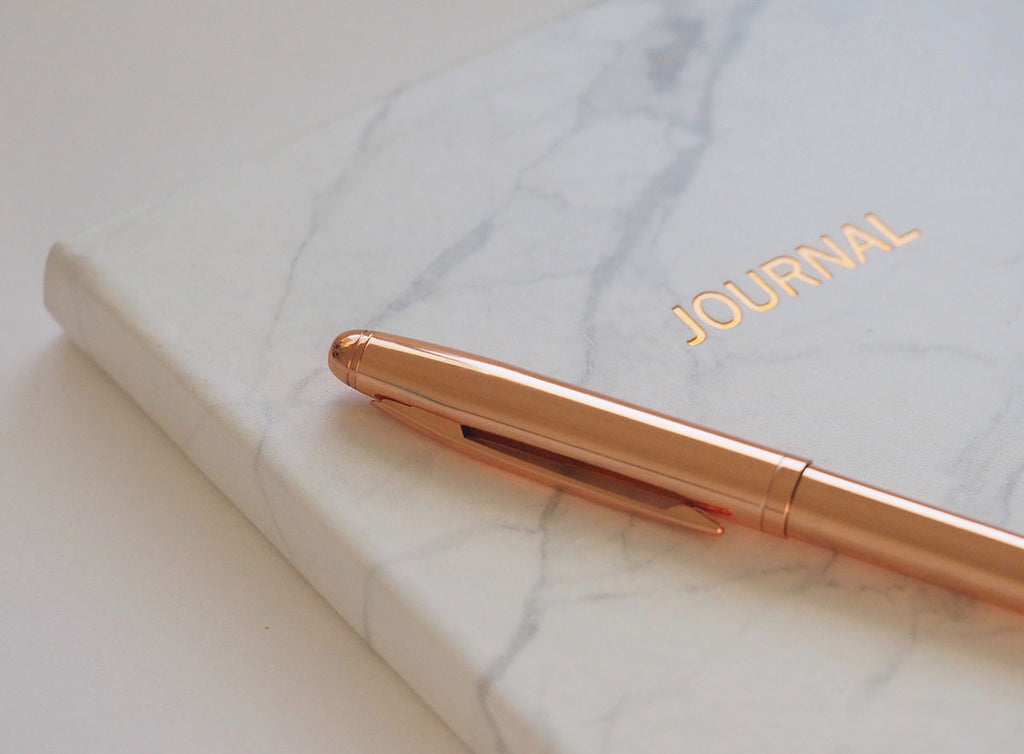 Forget your traditional colour themes, today we want to discuss a contemporary and chic combination that could turn your wedding from bland to beautiful. The next colour scheme on our long list of potential ideas has become a reality with two of our stationery collections and we couldn't wait to share it with you. Yep, we're talking about Marble & Copper. Perhaps not a combination of shades (or materials) that you might first think about when it comes to a wedding, this colour scheme has seen a rise in popularity over the past couple of years. You know something's about to become pretty big news when it's splashed all over the homey side of Pinterest and Instagram!
We absolutely adore both textures on their own: marble is elegant and is reminiscent of sculptures and grand architecture. On the other hand, copper has become one of the trendiest metals around whilst still retaining its industrial appeal and is often associated with interior design, especially in recent times. When you put them both together, marble and copper are a rich and bright combination which exudes elegance and style. It's definitely the route to go down if you want to incorporate metallics into your wedding but don't want to be cliché.
Image via Pinterest
Time to get planning
So how do you begin to put together this unique colour theme for your big day? Well, we can certainly help with that. You can begin to get excited for your wedding by imagining all the little details and accents that can help to make this texture combination a reality. For example, copper candlesticks or tealight holders, chairs and cutlery are easy ways to begin to build up your desired colour scheme.

If you've got a larger budget, marble can be featured with tables, sculptures and even perhaps the venue's architecture itself. This is definitely something to bear in mind when looking around for the place you're going to host your wedding.


Adding extra colour
Of course, it's not always practical to make every single tiny detail of your wedding in line with a marble and copper theme. That said, it's important to bear in mind some backup colours that can be incorporated into the existing combination. Pale pinks and oranges are a great option as they resemble copper. You could also use grey or pale blue as these colours are often found running through marble. 
However, don't forget about this colour scheme when choosing the more easily customised parts of your wedding like the stationery and table decorations.

Image via www.greenweddingshoes.com
Wedding Stationery
When it comes to wedding stationery, you don't need to look any further than our online store. We have two designs that make use of the beautiful, swirling textures of marble. We absolutely adore them and hopefully you will too if you've not already seen them. The first is our Marble collection Click here to take a look.
From place cards to belly bands, RSVPs to table plans, your whole wedding stationery can be marble-themed from top to bottom with this design! We've also added a beautiful pink touch to the Marble collection which will help it to tie in nicely with the copper side of your colour scheme.
Our second marble design has the added luxury of copper foil text, so it couldn't be more perfect for this colour theme. These elegant, foiled invitations are available with matching information and RSVP cards and are the perfect way to introduce your theme to your guest. Click here to take a look.
Bridesmaids dresses and groom's suit
Remember those alternative backup colours we mentioned earlier? Well, this is where they are going to come in particularly handy. If you're a big fan of grey, which is a really popular colour for all kinds of things from fashion to interiors, you might like the idea of a grey colour theme for your wedding party's clothing. Grey suits are timeless and a pale grey bridesmaid dress can look beautifully elegant. 
On the other hand, you may wish to go down the pale pink or peach route for the dresses to make it a bit more girly! If you're looking for something a bit different, however, navy also works well with a marble and copper colour scheme. Navy suits, again, always look stylish and navy bridesmaids' dresses potentially work better with a variety of skin tones as opposed to lighter, pastel shades.

Incorporating colours into your flowers
Now, obviously, your floral arrangements aren't going to be too easy to get in a marble or copper colour! This is another time when the alternative colours we mentioned can be incorporated into your wedding details. 
Pale pinks and oranges can work nicely as well as white, cream and light blues to give that soft, neutral touch. Creating a focus on the green leaves also works well as copper is often seen in partnership with houseplants and well, marble goes with anything.

For a little more inspiration...
If you need a little more inspiration and a few more ideas when it comes to a marble and copper colour theme, check out this Pinterest board we recently created. It's full of lovely images including our very own stationery and plenty of gorgeous, creative decor ideas. We've even pinned some great ideas for wedding cakes that make use of our new favourite combination: marble and copper.