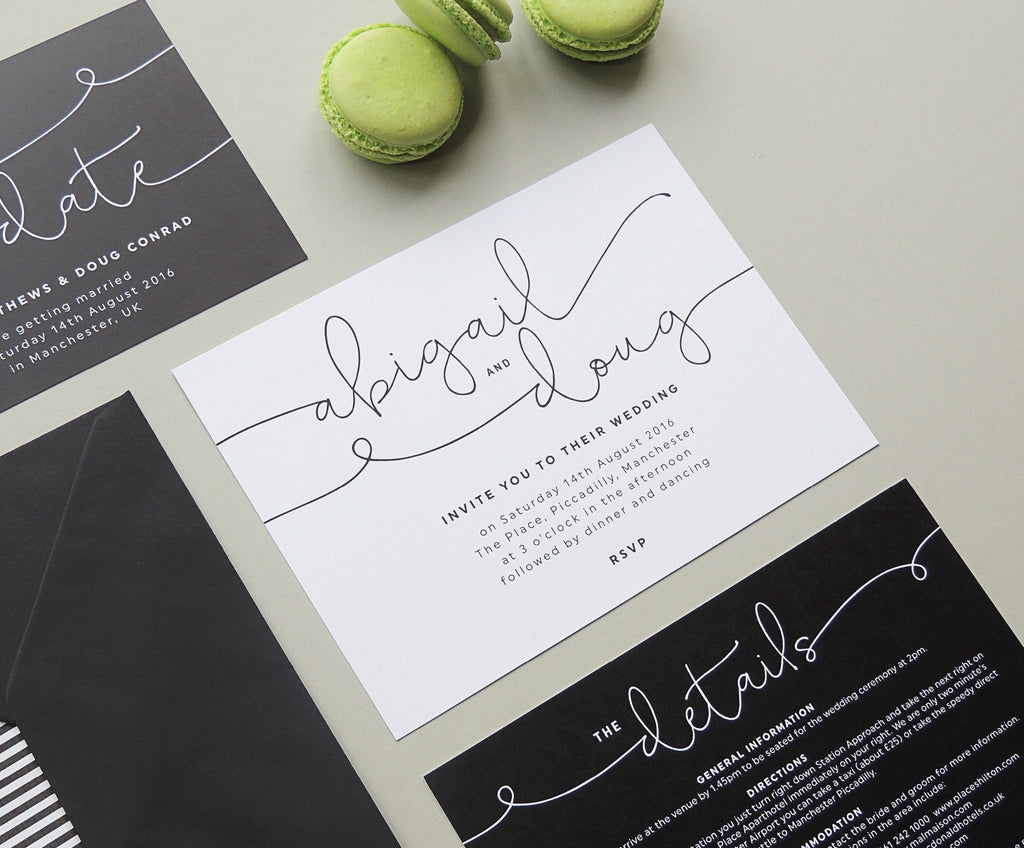 Today we are excited to announce the release of our new wedding collections for 2016 and the biggest collection release to date! From soft florals to modern and minimalist, our new designs are sure to catch your eye.
So grab a cup of coffee, and take a look!
Kate Collection
This simple black and white design features a relaxed handwritten style font on a white or black background. Team with black envelopes for understated cool. We can also line the envelopes with a  pattern of your choice - shown here with black and white stripes. Please get in touch if you would like to discuss additional extras.
Hydrangea Collection
Our new Hydrangea collection is available in pink or blue with optional belly bands. With rounded corners and a handpainted watercolour design, these invitations are soft and pretty. Available with white, grey or kraft envelopes. Perfect for summer weddings!
Betty Collection
Betty is a bold floral design featuring a bright gouache painted floral image on a black and white polka dot background. If you are looking for a pretty invitations with an edge, these could be the ones for you. Teamed with black envelopes and optional envelope liners, these invitations will really make a statement.
Romance Collection
Soft and as romantic as its name. Our new Romance collection features a soft watercolour background with soft grey calligraphy fonts. Finished with kraft envelopes and optional finishing touches such as the belly band and lace, this collection is super pretty and feminine!
Geometric collection
If you are looking for an ultra modern design, our Geometric collection might be right up your street. The design is available in 71 colour options, shown here is duck egg blue, and features modern typography and diamond geometric lines. 
To order samples of our new collections, head over to our samples page  or if  you have any questions, get in touch at studio@projectpretty.co.uk